Dear Readers,

trends determine our behavior: what we buy, where we travel, how we chose to live... so let's focus on trends to see how they evolve with a look at the Technical Park's new highlights!

We have what your customers are asking for... fun!

Turbo Sidecar Apollo

| | |
| --- | --- |
| | |

Kongeparken in Norway has received the newest Turbo Sidecar ride from Technical Park, The standard ride cosmetic is "death wall" stunt game, incorporated on an interactive attraction with a rotating center and turbo motorbikes linked to actuators to spin out directly controlled by the gas handle and engaging a side wall section, with independent movement and also engine noise feedback. But the park was in need to come up with an attraction linked to the natural setting and the themed area, because they never want a make-believe world destroyed by the things you see on their beautiful mountains horizon. So we created this new customized dress, to match the Norwegian characters the park already connected to on other rides, giving life to a crazy homemade machine, grinding corn with extreme fun using turbo motorbikes! The project theme is licensed and inspired by Gråtass movie (Little Grey Fergie) characters. The attraction allows riders from 0,90 m. and it is available with interactive windsurf themed gondolas also!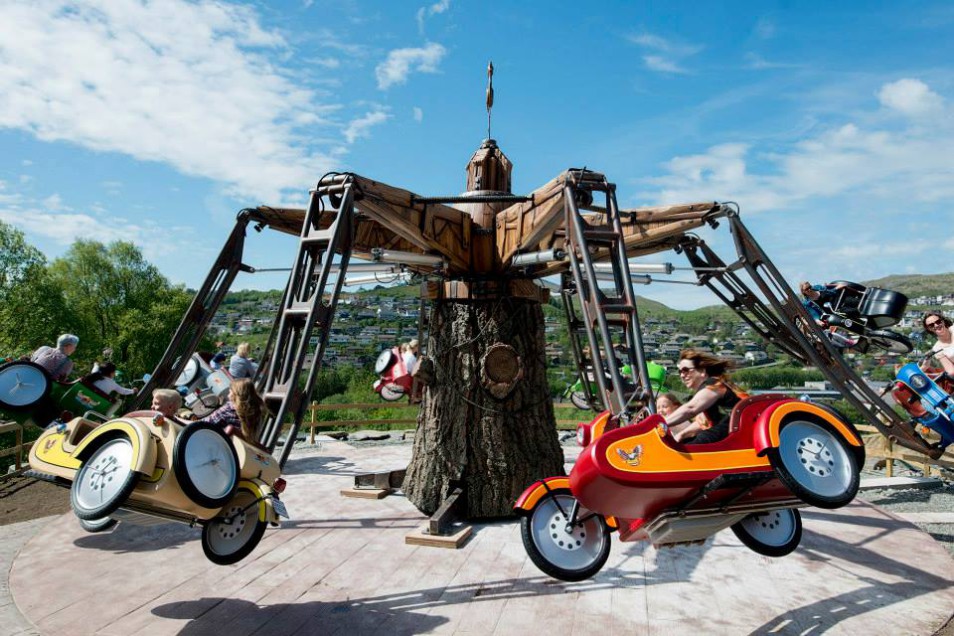 | | | |
| --- | --- | --- |
| | Aerobat is a great ride made by Technical Park, the passengers can drive the spin by giving an angle to the wings. The mechanism is very simple and funny, no motors on cars, only the central drive for the carousel rotation. The ride is now available for carnivals too, finally integrated in a semitrailer with a rotating tower and wave swing effect on the last section of the lift. Same design is interesting for permanent parks to reduce the envelope and load passengers on a flat floor. | |
| | | |
| --- | --- | --- |
| | Megaloop is a giant swing ride available for carnivals or parks, with counterweight and full investion 360° arch combined with looping cars. Offering a 40 meters height swing and 20 seats capacity it's an extreme unit at the very top of thrill ride category. It's pure adrenalin but also a very spectacular attraction considering the imposing dimensions. Portable model available. | |
...last but not least

We thank you for the recent visit at our booth by the AAE 2015 in Hong Kong and we look forward to meet you on the next international trade show events:

Attractions Africa in Johannesburg

(13-15 August)

European Amusement Show in Göteborg

(6-8 October),

where we will welcome you once again with other interesting novelties!